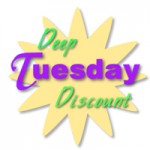 Today's Deep Discount Tuesday is an all-time favorite–35% off ALL things T-Tapp!
This applies to dvds, Better Body Basics products (PG Spray, B12 Spray, Premium Blended Alfalfa, FiberTox, Digest Plus), brushes and Skin Saver Series, but not apparel, books or other products sold by T-Tapp (Gaia Herbs, Nerium, Cellular PSP, etc.).
Just use the code MAY19 when you check out!  Start shopping HERE!
I also wanted to share we had so much fun we had last weekend at the New England Be Beautiful Retreat in North Andover, Massachusetts!  Rolling Ridge Retreat Center exceeded my expectations and I hope to return next year!
You can still join me in Colorado Springs, CO for the Be Beautiful Retreat on May 28-31, but please register today and e-mail me to let me know so I can add you to the report to the retreat center.
Enjoy your Deep Discount Tuesday shopping! 🙂