(Missed Part 1?  Check it out HERE)
Ready for the nitty-gritty details of how I "jumped back on the wagon"?
For the week of our county fair, every day I brought:
Rainbow Salad with cubed roasted chicken 

2 quart jars of water with sliced strawberries, lemons and limes

Apples, clementines and watermelon
I ate a good breakfast, ate the salad for lunch and used the fruit for snacks (between the elephant ears and ice cream! 😉 )   I filled my water bottle with "fruit water" from home and my goal was to drink it (22 oz) plus both quarts of water by the time I came home. And most days I did!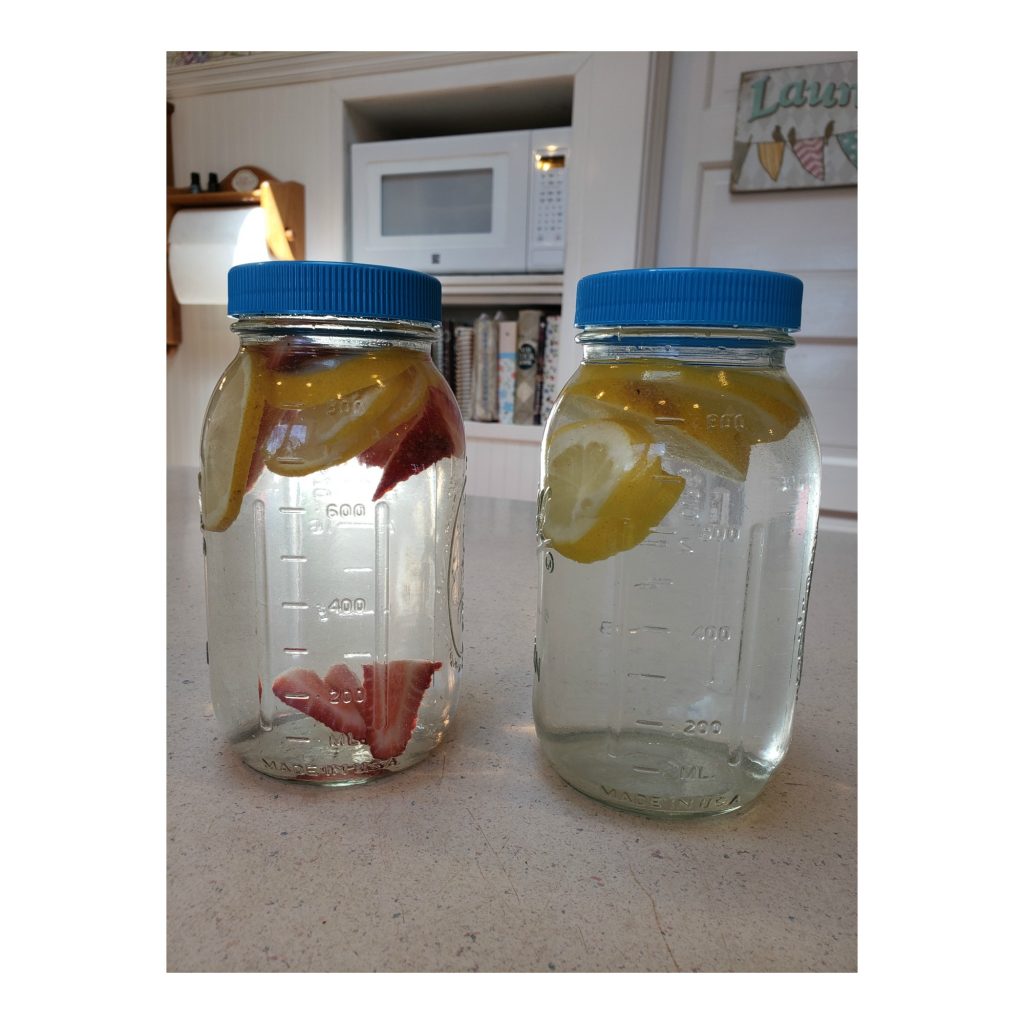 The goal here is to make a plan.  And prepare to execute the plan! I would refill the jars of water (I could reuse the fruit once so only had to chop fruit every other night), wash the fruit I was taking and put the salad and chicken in a plastic container to take.  I would put a few plastic forks and napkins in a plastic plastic baggie to keep clean in my cooler. I made the salad and chicken the weekend before the fair. Preparation makes all the difference!
Then–enjoy your time!  Don't stress over the treats–focus on the GOOD choices you prepared and brought with you!
Now, I'll be real here–there have been times, even though I told myself I'll get back on track after a detour, I didn't.  I've had some emotional healing this spring that has really helped me in many areas, including eating. But by giving myself grace to enjoy the journey, making plans to offset the junk a bit, and also making plans to get back on track after the detour–it was truly not a struggle to "get back on the healthy eating wagon"!
NO judgment here!  If you just don't feel you can do that yet, it's okay.  But please don't beat yourself up. I have dealt with emotional eating for as long as I can remember.  It doesn't just go away overnight! But we also can't just make ourselves eat healthy if we don't deal with the whole person.  It all truly is interconnected!
A resource that has helped me tremendously, as well as made me EXCITED about cooking, is Cassy Joy Garcia's Cook Once Eat All Week.  You can also check out some of her recipes for FREE at her website, Fed and Fit!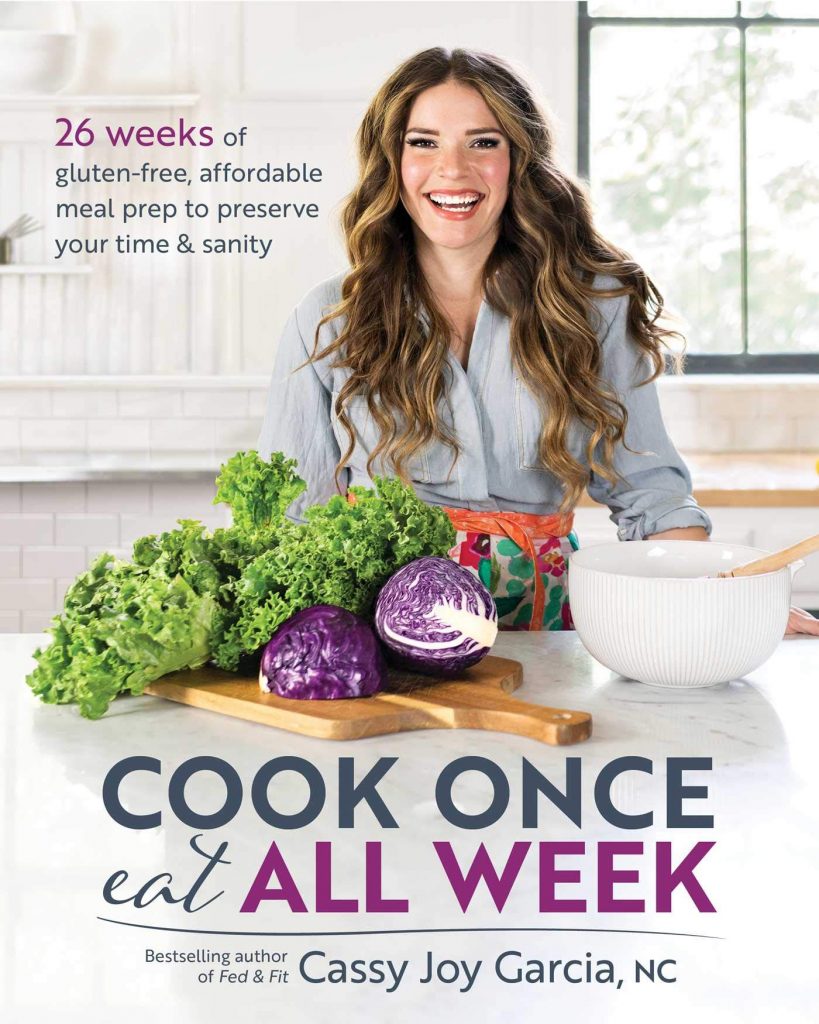 I have to double (and sometimes triple!) the recipes, but they are sooo flavorful! Gluten free and leaning towards paleo (but not 100%), she gives you the shopping list, prep day instructions and then 3 main dishes with a starchy vegetable and usually a green vegetable to put together or reheat on the day you need them.  She also gives 2 other menu ideas with different meats so if you don't want to have chicken every night, for example, you have options. And having a meal plan takes the "I'm-too-tired-to-think-about-what-to-have-with-this" brain fog AWAY!
I started this for me, then decided my whole family would eat this food,too!  And they LOVE it when it's "my" night to cook! 😉 (I have a few children who have nights to cook, so we all give each other a break!)
(Do yourself a favor and get the spiral bound version!)
I also love that there are so many varieties of veggie ideas! And I LOVE LOVE LOVE roasted veggies!
This was tonight's asparagus and cherry tomatoes before going into the oven–they were yummilicious!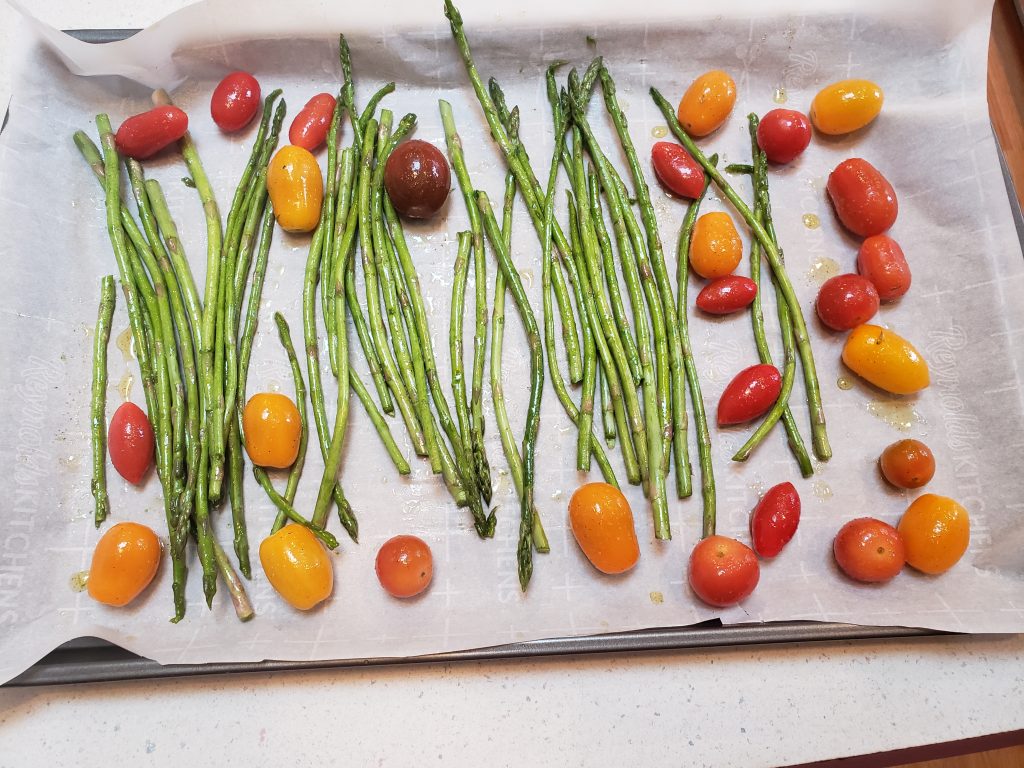 Have you ever roasted veggies? It's SUPER easy!
Choose veggies (I've used parsnips, asparagus, brussels sprouts, cherry tomatoes, summer squash, zucchini, peppers) and slice or dice into cubes

Toss with olive oil, salt, pepper and seasonings of choice

Spread on large parchment lined cookie sheets

Bake at 375° – 400° for 30-50 minutes (longer for denser veggies)

Enjoy!
There are SO many possibilities with roasted veggies! And roasting brings out the flavors for a tasty way to get those veggies in!
Here's the AMAZINGLY yummy Rainbow Salad before mixing: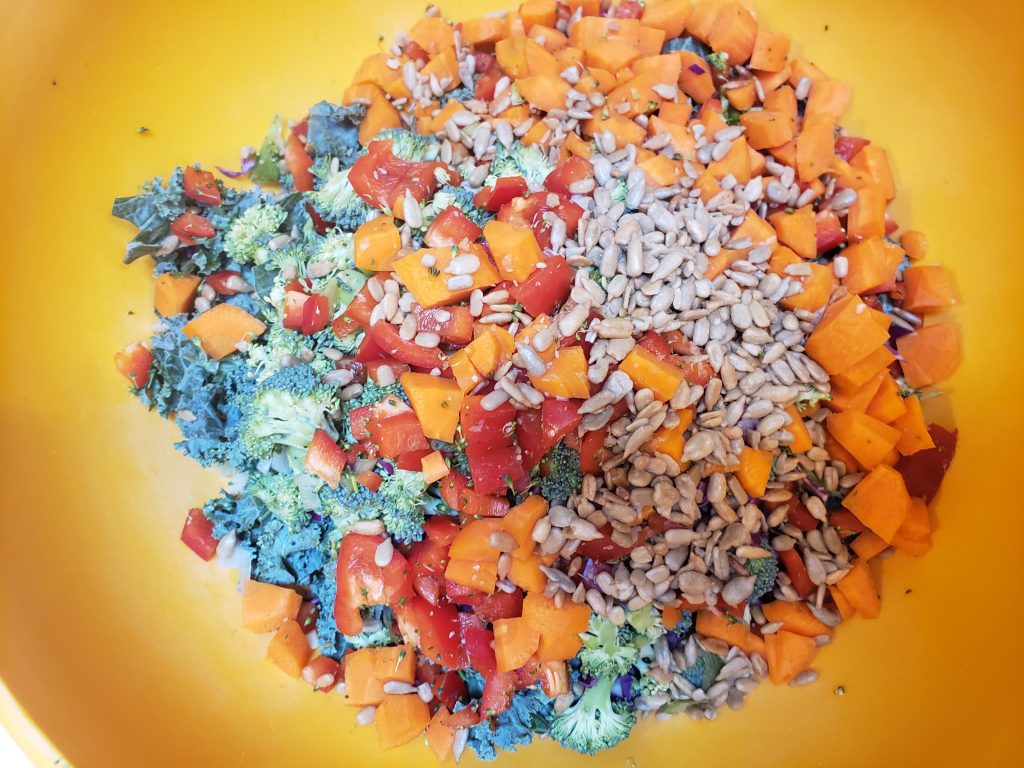 Would you like a quick checklist of my tips PLUS recipes for Rainbow Salad and my favorite roasted veggie combos?  (Including my "secret" ingredient! 😉 )  Drop your name and email below!
Getting back on the healthy eating wagon doesn't have to be something we dread.  Following these three easy tips can make it easy–and FUN!
Add ONE good choice

Prepare ahead of time when you can

Have GRACE for yourself!
Oh!  ONE more tip:
I'd love to hear any steps YOU have taken to get back to healthy eating!  Have you added roasted veggies to your menu? What are your favorite combos?  Please share below!