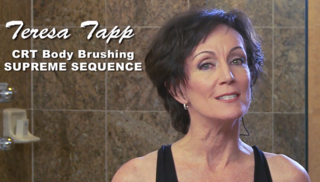 After a stressful summer, a week away at the retreat and certifications surrounded by a supportive sisterhood and pampering–and good food!–melted the stress away.  I literally lost half a size just from the inflammation going down!
Teresa gave us a preview of her two new digital options–a new brushing video called CRT Body Brushing Supreme and another with Moisturizing and Skin Tightening Tips.  Both are EXCELLENT!
CRT Body Brushing Supreme is very comprehensive!  And Teresa looks FABULOUS!  It's an 18 minute video, and I personally will be doing this sequence once a week for a more thorough skin brushing. I incorporate some elements of it even in my daily brushing now.
The Moisturizing and Skin Tightening Tips video gives a lot of information about the different Skin Saver Products Teresa uses as well as tips for applying for luxurious skin care.
Regular prices are $19.95 for the CRT Brushing Supreme and $12.50 for the Moisturizing and Skin Tightening Tips.  Both have access for 9 months–plenty of time to learn and memorize the sequences and tips!  For Deep Discount Tuesday, CRT Brushing Supreme is $15 and Moisturizing and Skin Tightening Tips is $10!  GREAT deals!
You can check them out at the Digital Store.  Please note that you may need to click "show more" to see all of the digital options.
I'm excited for these new tips–I hope you take advantage of one or both of these videos so you can pamper your skin and turn back time, too!