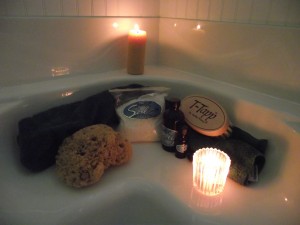 What's the hype about dead sea salts?!
I've used Teresa's Dead Sea Mineral Salts for over 5 years now.   There are many quality brands out there, but hey, I'm ordering from T-Tapp anyway so I might as well add some in, right?! 🙂  At first I used them in baths–great for sore muscles as well as tightening skin.  The dead sea salts:
Feed the skin minerals
Relax muscles, helping with soreness
Help the body detox
Tighten loose skin from inch loss
Help the skin repair itself
Maintain elasticity, especially helpful during inch loss!
Help reduce cellulite
You can soak in a bath with 1/2-1 cup of the dead sea mineral salts dissolved in it (and I like to add a few drops of lavender essential oil, too!), or you can make a mask with it.  There are different ideas of how to do that and "recipes", but my basic one is as follows:
1-2 TB Skin Saver Dead Sea Mineral Salt, finely chopped (either use a mini-chopper or coffee grinder)
Enough aloe vera gel to dissolve the salt
Few drops T-Tapp's Grapefruit Essential Oil
1/8-1/4 tsp. Skin Saver Body lotion, optional
I take the finely chopped salt in a cup to my shower, put a little in my palm, add the few drops of grapefruit essential oil (and Skin Saver Body, if desired) and enough aloe vera gel to dissolve the salt. It becomes kind of a slurry mixture more than a paste!  I slather that on my "areas of concern", and repeat until I'm out of salt.   I like to leave it on at least 10 minutes, but even 5 minutes done consistently (2-3 times per week) will yield results.  20 minutes is optimal!  Rinse off, shower as usual, and afterwards pamper your skin with a good, paraben-free lotion.  I like to mix shea butter with more Skin Saver Body lotion (it's more of a thick oil), and even a drop or two of the grapefruit essential oil for a lovely scent!  Slather on and enjoy this "dessert for the skin"!
When I have been consistent with this 3 times per week, I have been amazed how in just a short time I can see improvements in cellulite lessening, stretch marks fading, skin tightening, glowing skin….all kinds of wonderful results!
If you prefer to soak in a bath, as I said earlier, dissolve 1/2-1 cup of salts in a warm but not hot water, soak 10-20 minutes.  Afterward it's best to lie down for about 10-15 minutes, and stay well hydrated.
I've not used the mask on my face, nor have I done the "all-nighter" where you let the mask dry on your skin and leave it all night (I think my hubby would not like the feel of salt crystals in bed!), but here is a great thread from the forums with more links within:
Got the Dead Sea Salt~How Do I Use it As a Mask?
And another one where they discuss dissolving the salt with aloe gel and spraying on (haven't tried this either, but I might!):
Aloe Vera Gel and Dead Sea Salts
One more about Dead Sea Salt Wraps!  This one sounds good to try! (amounts given in last post on this thread)
Ready to try some "pamper me" time that will help your skin look fabulous as you get fit?!  Click HERE to go to the T-Tapp Store and check out the Dead Sea Mineral Salts for yourself!
Happy Pampering! 😉