This week, the giveaway is the Target POP (Points of Perfection) for LadyBugs!   LadyBugs is a great move to help with hormones!  Always warm up with Organs in Place first.
I used to do the LadyBug move nightly and it really does help PMS and other hormonal issues!  My dear friend Bev also found it helpful (not sure if she's still doing them nightly or not–maybe she'll comment and share!).
LadyBugs is also good for the rib-to-hip area–where we tend to "spread like a ladybug" during the perimenopausal and menopausal years!
I've also included a homemade sugar scrub!  Full of good-for-your-skin ingredients–brown sugar, evaporated cane juice, turbinado sugar, sweet almond and sunflower oils, vanilla extract–with touches of jasmine and ylang ylang essential oils.  One of my favorite combinations!
Here's what the sugar scrub looks like inside (it's fuller than this–I didn't think to take a pic before I tied the bow on, so this is another jar with the "leftovers"!)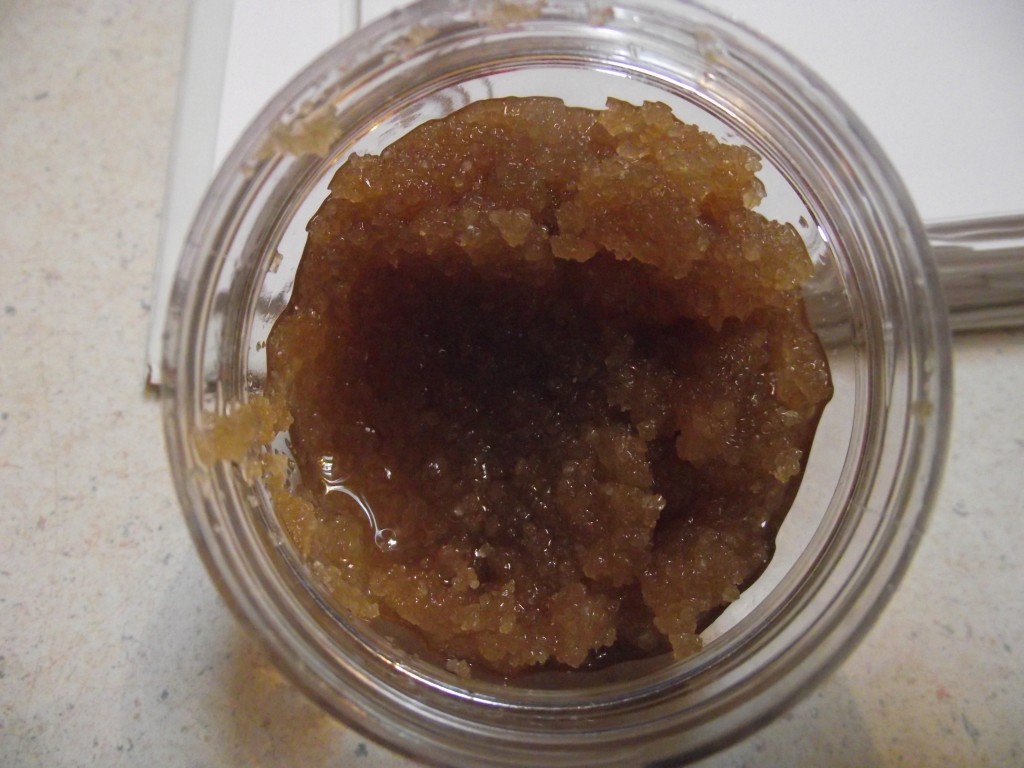 Interested?! 🙂
To enter the giveaway:
1. Blog it!  Facebook it!  Tweet it! E-mail it!  Or, just tell a friend somehow, someway.   You may comment and tell me what all you did or do a separate comment for each, and you may do this DAILY!
2.  Leave a comment telling why you'd like to have this giveaway–basically I want you to tell me why YOU are WORTH it! 🙂 (Back to those positive statements!)  If you need help getting started, you could say, "I want to help balance my hormones and work on my lower body, and I'd love the sugar scrub to pamper myself!" (Yes, you have permission to use that or a variation!)
3. If you haven't already, go to my Be Youthful 'n Fit facebook page and "like" it, or "share" it (or a post from it).
4. What is your biggest challenge with T-Tapp? Schedule, understanding the workout, a particular move, losing form, etc.  Share in a comment.
This giveaway will run from today until midnight next Wednesday.  I'll announce the winner next Thursday AND announce the next giveaway!  Yes, I have one more up my sleeve!
Have fun!  And remember–YOU are WORTH it!
{{{HUGS!}}}