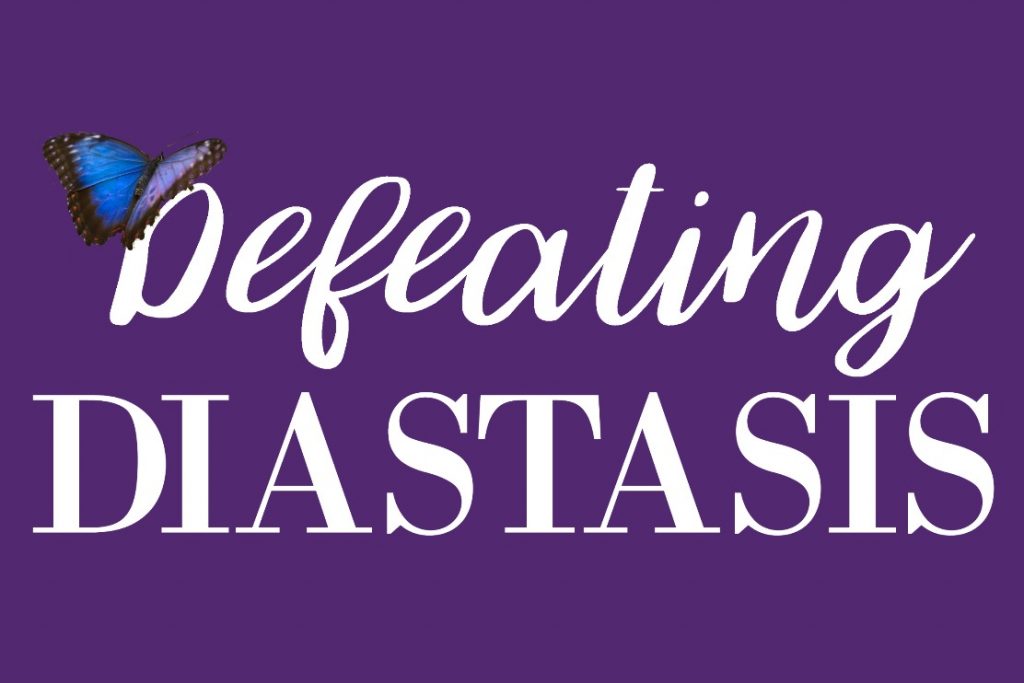 The spring course of Defeating Diastasis starts March 26–and registration is up!
But Defeating Diastasis isn't just for the "tummy gap"!
One of the most consistent benefits from the surveys I send out after each course is less or NO leakage when ladies cough or sneeze.  Now THAT is a GREAT benefit! 😉
But that's not all!
Gaps of anywhere from 2 fingers to 8+ closed or got significantly smaller.  Ab awareness increased.  Many were excited to be able to activate their core while doing daily activities. I personally have slightly reversed my uterine prolapse and kept it from getting worse. Some lost inches and sizes, too!
Listen to these two ladies share their successes in spite of life getting in the way (i.e. you don't have to do every lesson nor do it all perfectly to get results!):
Trisch's Defeating Diastasis is one of the most professionally done programs I have tried. She gives very clear written instructions that are reinforced through videos of her performing the moves. Even though I wasn't able to go past Lesson 14 because life seriously got in the way, I was able to feel muscles that I had not felt before. The exercises are quick and easy and give great results. Trisch is also very good about answering any questions that you have along the way. If you are wanting to close your gap, let Trisch help you. You won't be disappointed.

~Jemi R.
At age 63, mother of 4 who have flown the coop, and wanting to get back into shape, I began the Defeating Diastasis program enthusiastically. I was a little concerned that, being such a long commitment, I might not be able to get all the way through it. But with encouragement from Trisch I decided to give it a try and do the best I could.

The first week I measured my gap: Above navel 3 finger widths, at navel 5, and below 7.

I really concentrated on the basic floor movements throughout. I was right about life getting in the way, but as Trisch constantly told us, the basics are basic. I did get to some of the standing work, and did those at work during bathroom breaks and at home as well. I'm afraid I did not finish the course, but my numbers kept dropping with the work I was doing, and at the end my measurements were:

Above navel 1 finger width, at navel 3, and below 3.

I feel good about my progress. I continue to work on it. The exercises have increased my awareness of my core and posture. I was a little disappointed that I had no inch loss, but I realize that inch loss was not the goal of this program, it was closing the gap.

Thank you Trisch!

~Donna R.
For this spring, all the videos and written materials for the course will be in ONE place, to make it even easier to find all your lessons!  Defeating Diastasis is a 13 week course, starting March 26, last lesson in late June and you will have video access through August 11.  There is also a 2- payment option for the course!   Please call the office to arrange this option: 1-800-342-0717
There is an Early Bird Special, too!  If you register by March 1, you will get immediate access to my Amazing Activation Tips!  You will keep the access through August 11 along with the course videos, too!
I hope you will join me this spring–for a stronger CORE and MORE!