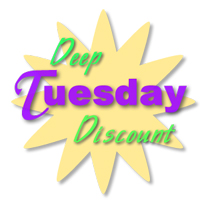 Can you believe it's the last Deep Discount Tuesday of the year?!
And T-Tapp is closing out 2016 in style!  TWO great BOGO offers!  Buy one Digest Plus, get one free!  Or (and?!) buy one White Brite get one free!
I've already spoken of how much I love Digest Plus–it is an amazing enzyme! Not just digestive but also systemic enzymes to help the body reduce inflammation.   This is one supplement I won't be without! If you have gut issues or inflammation issues–or both!–this is a must have. And a GREAT price, too!
I've personally used White Brite as have a few of my daughters.   It does whiten the teeth–without harming the enamel.  It also keeps the gums healthy. I've noticed my gums seem tighter when I regularly use it.  Regularly can mean 2-3 times per week for me!
In addition to those great deals, you can purchase one item with a $10 off coupon code!  GREAT way to finish 2016 strong and healthy with quality products–and get your favorite T-Tapp wishlist item at $10!
Check it out HERE!
You could even use the extra bottles of  Digest Plus and White Brite as stocking stuffers! 😉